Police on heightened alert
Police on heightened alert
Police in our chamber communities, across the state and around the
nation
are on a heightened state of alert, after a former Hamas leader made a generic call for protesters to stage demonstrations on Friday,
WCVB reports
.
The Massachusetts State Police Commonwealth Fusion Center, Watch Center and Anti-Terrorism Unit have been activated but officials say they are not aware of specific or credible threats made against locations or groups within Massachusetts.
Newton Police also
said on social media
that they "are not aware of any specific threats to our city" but are asking "our community to practice good situational awareness and as a reminder if you see something, say something."
Chamber to honor
Walensky for her service Nov. 3
I hope you will join us at our Fall Business Breakfast, Nov. 3 at the Newton Marriott when we will be honoring Newton resident Dr. Rochelle Walensky for her service to our nation as director of the
CDC during the height of the COVID-19 pandemic.
Also that morning: We're really looking forward to hearing from o
ur guest speaker, Rich Gotham, president of the Boston Celtics.
As is always the case, we expect that this year's breakfast will sell out.
Our early bird discount offer for tickets ends tonight.
Reserve your seat here.
Yes, Virginia, supply and demand applies to housing
It's an argument heard regularly in all four of our chamber communities and well beyond.
Building more housing, say opponents to the MBTA Communities Law and other efforts to make it easier to create new multifamily housing, will only drive-up prices and further gentrify our neighborhoods.
It won't, they also say, make our communities more affordable to young workers, families and downsizing seniors.
It won't, they add, drive down prices, as if the law of supply and demand applies to everything except housing.
Except study after study shows that
more housing does lead to lower home prices.
For example, a Pew Trust study of four different U.S. markets found that more flexible zoning helped those areas build housing faster, keeping up with their rising populations and slowed rent growth,
reports the Daily Progress.
"Although rents remain fairly high in the four places examined, they are certainly lower than they would be if the cities had not allowed more housing," reads the report.
Same results in an
Upjohn Institute
study which found that when substantial amounts of new apartments were built across 11 different cities, average rents declined about 6%.
"Opposing such development may exacerbate the housing affordability crisis and increase housing cost burdens for local renters," added the authors of a seperate
New York University study
, the Daily Progress notes.
Yes, upzoning can increase land values in the short term but the price per unit should decrease. For example, if
a single-family Victorian home is subdivided into multiple units, as the MBTA Communities Law encourages, it's naturally going to be more affordable than the original configuration.
However,
a research paper out of the University of California warns that if a community is looking to upzone it should do so across the entire city, much like
the plan
now being considered by the Newton City Council which seeks to allow for more multi-family homes in all of its village centers, even though
some
city councilors
and
candidates
favor rezoning one,
or some
, villages at a time.
But doing so would only create bidding wars over land in the few neighborhoods that are upzoned, driving up prices.
"Broad upzoning favors small-scale developers," the study reads.
Needham pondering MBTA Communities options
Speaking of MBTA Communities,
Needham will hold its first community wide meeting to discuss how the town may comply with the law, Nov. 9 at Town Hall.
In preparation, the nine-member committee that's been designated to study compliance scenarios, called the
Housing Needham Advisory Group
(HONE) has been meeting to consider options that would allow for the potential creation of at least 1,784 multi-family housing units prior to the Dec. 31, 2024 deadline.
And here comes the standard, but necessary, disclaimer: Zoning to allow for 1,784 units does not mean that 1,784 units will be built. And even the new housing that will come on line will likely happen gradually.
HONE is modeling zoning options around three of the town's four commuter rail stations, Needham Heights, Needham Center and Needham Junction.
Newton Centre, Wellesley Hills bank branches to close

Once Eastern Bank's pending acquisition of Cambridge Trust is completed early next year, Eastern plans on closing 11 branches across the region, including the Cambridge Trust branch in Newton Centre (which many of us recall fondly was a former Peets) and the Eastern Bank branch in Wellesley Hills (which had previously been a Century Bank).
Employees at all locations will be offered jobs elsewhere in the company, writes
Jon Chesto at the Globe
.
Needham watchmaker passes
Needham has lost a beloved member of its business community: Bert Wikstrom, owner of
Three Crown Jewelry
, a Needham Center institution.
Wikstrom, 84, ran the unique clock store for 32 years with his wife Sandy, working seven days a week repairing watches and clocks, becoming the go-to place for help with any time piece or family heirloom.
News regarding the future of Three Crown Jewelry will be announced soon.
Women-owned businesses face SBA loan gap
The Small Business Administration has acknowledged that one of its main lending programs has a women problem.
Women-owned businesses accounted for about 38% of American businesses, but were approved for about 32.6% of SBA 7(a) loans in fiscal year 2023. T
he share of loans approved for businesses majority-owned by women stood at just 11.4%
And when women-owned businesses do get loans, they are typically smaller than those obtained by male business owners,
writes Andy Medici at the BBJ
.
Two very different visions for Watertown
Finally today, thanks to the two candidates running for city council president in Watertown – incumbent Mark Sideris and his challenger Clyde Younger -- for an engaging 45-minute discussion about economic development and supporting local businesses yesterday.
In some forums, it can be hard to decipher the differences between the candidates.
I guarantee
that's not the case here
.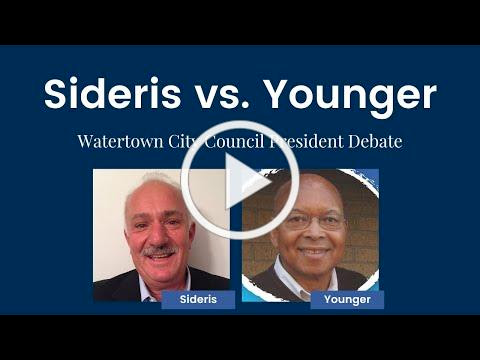 That's what you need to know for today, unless you need to know about the Brookline official who basically delivered a
"get off my lawn" lecture
to local high schoolers.
Have a great weekend. You'll be shopping and dining locally, right?